AOP Minervois 2017
Domaine Sibille, Terre de Grès, Cuvée L'Audacieuse
This wine has both freshness and richness. It is made in the warm and sunny south of France, but is still lively and not over rich.
Mouthfeel
Fruity
Full bodied
Full
Appearance
Dark colour
Purple edges
Service
Aeration
3 hours decanting
Winemakers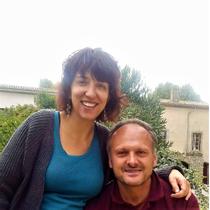 Pierre et Barbara Sibille
Originally from Alsace, the winegrowers Barbara and Pierre Sibille have no ordinary background. In 2015, Pierre, a qualified oenologist and Sibille, a civil servant, quit everything for a new life as independent winegrowers. After touring France's wine regions in a motor home with their children, they found what they were looking for in Laure-Minervois and decided to buy a vineyard there. It was no accident that the estate they chose has been certified as organic since 2009, as Barbara and Pierre feel strongly about employing non-polluting and environmentally friendly methods. For them, organic winegrowing is not only about production techniques, it is a genuine philosophy.
Characteristics
Label of origin
Minervois
Vineyard name
Domaine Sibille
Cuvée
Terre de Grès - L'Audacieuse
Location
Languedoc-Roussillon
Grapes
Grenache, Carignan, Syrah
Type d'agriculture
Organic